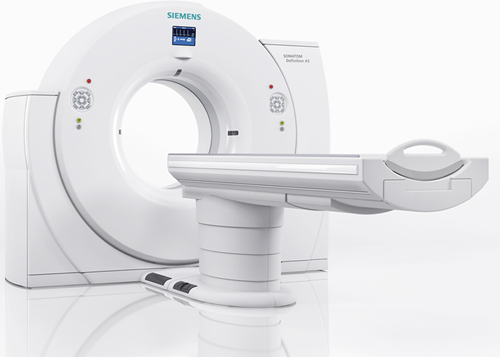 The Siemens SOMATOM Definition AS/AS+ Excel Edition. Available in the 64-slice and 128-slice configuration. Features include: State-of-the-art cardio-vascular imaging. Highest spatial resolution.  High-speed whole body coverage at highest spatial resolution. Pediatric and bariatric CT imaging with virtually no patient exclusion. Most comprehensive low dose CT portfolio in single source CT, including CARE kV. Full on-site upgradability up to 128 slices with 18 m² footprint. Additional features available: Full FAST CARE functionality like FAST Planning to optimize patient-centric productivity. Iterative reconstruction with SAFIRE*. 3D guided interventional CT. Long range dynamic imaging (up to 26 cm) for whole organ coverage at highest spatial resolution. Scanner-injector coupling including injector protocol management.
Clinical Imaging Systems offers turnkey installation on all equipment we sell. Systems come fully tested with optional reconditioning or refurbishing.
CIS provides a variety of warranty and service options to fit any budget and as an approved vendor of leading medical equipment finance companies CIS can provide you with flexible financing options.
Site planning is included with all turnkey installations and CIS can help manage and provide suite remodels and build-outs.
Contact us today for a quotation on your imaging equipment needs.