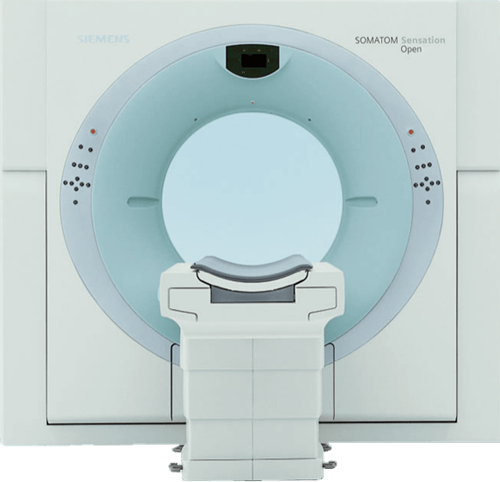 Models: Sensation 10, 24, 40 Slice
SOMATOM Sensation Open is a Computed Tomography system designed for the specific needs of CT imaging in oncology, interventions, trauma examinations,
and for the scanning of bariatric patients.
Based on the SOMATOM Sensation platform, 0.5 second rotation time and a 20 slice UFC detector enable a volume coverage of up to 72 mm/sec. and high low
contrast resolution at the lowest possible dose. The new Straton tube and the gantry bore of 82cm diameter combined with a 82cm field of view provides substantial prerequisites for easy patient access and extended visualization.
When doing interventional CT, the easy patient access enables a fast positioning of the interventional instruments and thus conditions with higher sterility. For emergency room examinations (ER), the large bore of the SOMATOM Sensation Open virtually eliminates the necessity to reposition and adjust life support equipment.
Clinical Imaging Systems offers turnkey installation on all equipment we sell. Systems come fully tested with optional reconditioning or refurbishing.
CIS provides a variety of warranty and service options to fit any budget and as an approved vendor of leading medical equipment finance companies CIS can provide you with flexible financing options.
Site planning is included with all turnkey installations and CIS can help manage and provide suite remodels and build-outs.
Contact us today for a quotation on your imaging equipment needs.