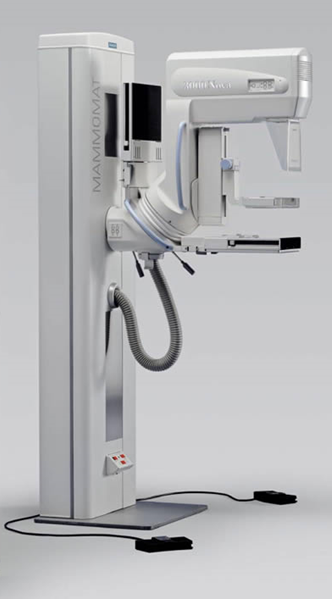 The Siemens MAMMOMAT Novation DR combines the proven and favorite features of MAMMOMAT 3000 Nova analog mammography system with the latest digital full-field technology. It offers the best of both worlds – and so much more.
Features:
Digital receptor: Amorphous selenium
Digital detector size: 24 x 29
Pixel matrix (RESOLUTION) 2400 x 2900
Digital grid ratio 4:1
Pixel size: Sandard mode: 70m Microns
Pixel size: HR mode: 20 lp/mm
DICOM storage
DICOM modality worklist
Clinical Imaging Systems offers turnkey installation on all equipment we sell. Systems come fully tested with optional reconditioning or refurbishing.
CIS provides a variety of warranty and service options to fit any budget and as an approved vendor of leading medical equipment finance companies CIS can provide you with flexible financing options.
Site planning is included with all turnkey installations and CIS can help manage and provide suite remodels and build-outs.
Contact us today for a quotation on your imaging equipment needs.