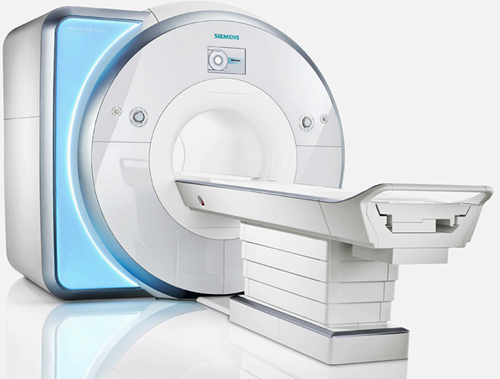 The Siemens MAGNETOM 3T MRI T brings a groundbreaking combination of Tim 4G's integrated coil technology and Dot – the next movement in MRI – MAGNETOM Skyra will transform 3T productivity. As a top-of-the-line 70 cm 3T system, MAGNETOM Skyra offers a full range of applications and technologies to address different customer needs ranging from the clinical routine to research.
Siemens Skyra 3T MRI Features:
High patient comfort with 70 cm Open Bore and short system design
Up to 50% higher productivity with Tim 4G and Dot
Top-of-the-line applications and technologies for clinical routine and research
DirectRF – digital in/out for higher signal purity and improved stability
TrueForm design for optimized homogeneity volumes matching the true form of the body
Tim Dockable Table – mobility done right
Siemens Skyra 3T MRI Features:
Field strength 3T
Bore size 70 cm Open Bore design
Magnet length 163 cm
System length 173 cm
System weight (in operation) 7.3 tons
Minimum room size 31 m² / 334 sq. ft.
RF Tim [204x48], [204x64], [204x128]
Gradient strength XQ Gradients (45 mT/m @ 200 T/m/s)
Clinical Imaging Systems offers turnkey installation on all equipment we sell. Systems come fully tested with optional reconditioning or refurbishing.
CIS provides a variety of warranty and service options to fit any budget and as an approved vendor of leading medical equipment finance companies CIS can provide you with flexible financing options.
Site planning is included with all turnkey installations and CIS can help manage and provide suite remodels and build-outs.
Contact us today for a quotation on your imaging equipment needs.