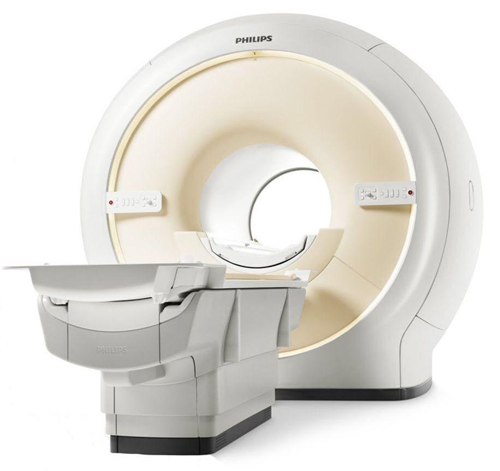 The Philips Ingenia 1.5T brings you features such as: DirectDigital, FlexStream and EasyExpand, dStream is an exciting new MR system architecture that delivers crystal clear images, remarkable speed, and technology. Philips-exclusive DirectDigital RF samples the MR signal directly in the coil on the patient, and sends it to the reconstruction systems via fiber-optic cable. The result is up to 40% higher SNR, and a dynamic range that exceeds 185dB.
Features of the Philips Ingenia 1.5T include:
70 cm bore provides more space and helps to reduce anxiety
Smart software to reduce retakes increase consistency and exam speed
Digital coil design greatly reduces coil weights and leads to less patient repositioning in many exams
The ambient light ring on the magnet façade and adjustable, in-bore lighting enhance the openness of the system
Patient-perceived gradient acoustic noise is reduced by more than 80%
At the heart of the Ingenia 1.5T is the new dStream architecture
DirectDigital RF receive technology, which digitizes the MR signal directly in the RF coil at the patient
FlexStream workflow, which increases system versatility and throughput through better coil and patient management
EasyExpand, which enables plug and play expansion of clinical capabilities without major hardware upgrades
Clinical Imaging Systems offers turnkey installation on all equipment we sell. Systems come fully tested with optional reconditioning or refurbishing.
CIS provides a variety of warranty and service options to fit any budget and as an approved vendor of leading medical equipment finance companies CIS can provide you with flexible financing options.
Site planning is included with all turnkey installations and CIS can help manage and provide suite remodels and build-outs.
Contact us today for a quotation on your imaging equipment needs.