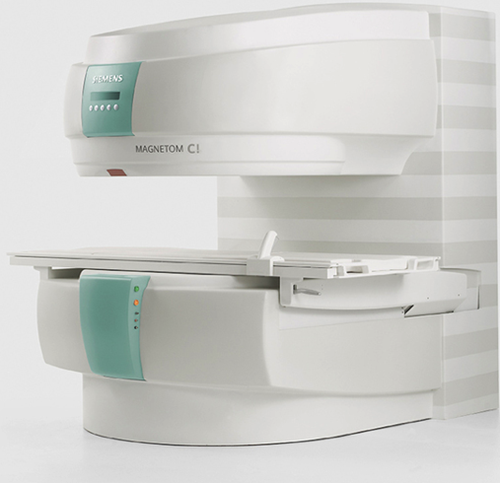 The Siemens MAGNETOM C offers work that flows, image quality that convinces, and patient comfort that satisfies: These are just the beginning of the advantages of MAGNETOM C!. Increased healthcare quality, seamless workflow, and low operating costs all promote a high return on investment.
Siemens MAGNETOM C MRI Features:
Smallest pole diameter (137 cm / 54 inches) for patient comfort • Sharing the same syngo software platform as all other MAGNETOM systems: high-field applications tailored to mid-field for all clinical fields • True multichannel imaging for seamlessly imaging up to 100 cm • No cryogen use and low power consumption to further reduce operating costs • Outstanding image quality at mid-field
Siemens MAGNETOM C MRI Specifications:
Field strength 0.35T
Bore size 270° accessibility
Pole diameter 137 cm
System length 137 cm (54 inches)
System weight (in operation) 16 tons
Minimum room size 30 m² / 325 sq. ft.
RF 13x4 Gradient strength (24 mT/m @ 55 T/m/s)
Clinical Imaging Systems offers turnkey installation on all equipment we sell. Systems come fully tested with optional reconditioning or refurbishing.
CIS provides a variety of warranty and service options to fit any budget and as an approved vendor of leading medical equipment finance companies CIS can provide you with flexible financing options.
Site planning is included with all turnkey installations and CIS can help manage and provide suite remodels and build-outs.
Contact us today for a quotation on your imaging equipment needs.