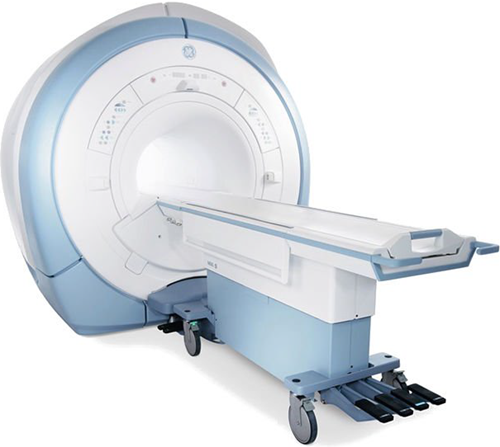 The Signa 1.5T HDxT MRI provides you with advanced technology. A proven, homogeneous 1.5T magnet that delivers a full, 48-cm field of view. 8, 16 and 32 channel RF options. HD gradients engineered for high-fidelity to produce high accuracy waveforms. HD Reconstruction engineered for real-time, high-performance image generation. Advanced, high-definition applications—such as CUBE and IDEAL—that help deliver images with premium quality and clarity. Built on the high-definition platform the GE Signa* 1.5T HDxT is an affordable alternative for accurate diagnosis with optimum performance, anatomy-specific components for accurate and precise results.
The Signa HDxt 3.0T is engineered from end-to-end to let you see more. With GE's high-density coils, data acceleration technology, and high-definition applications optimized for each anatomical area and engineered to work with the system's premium performance components, GE can deliver images with excellent contrast and clarity.
Clinical Imaging Systems offers turnkey installation on all equipment we sell. Systems come fully tested with optional reconditioning or refurbishing.
CIS provides a variety of warranty and service options to fit any budget and as an approved vendor of leading medical equipment finance companies CIS can provide you with flexible financing options.
Site planning is included with all turnkey installations and CIS can help manage and provide suite remodels and build-outs.
Contact us today for a quotation on your imaging equipment needs.