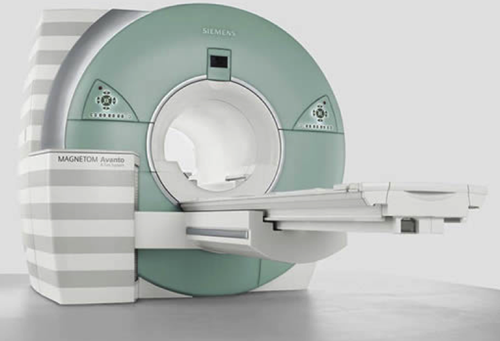 The Siemens MAGNETOM Avanto is the landmark in 1.5T imaging due to Tim technology in combination with a dramatic reduction in acoustic noise, and a comprehensive application range up to 205 cm whole-body imaging. With the integration of Dot, the power of Tim is multiplied resulting in greater image consistency and diagnostic confidence, greater ease-of-use, and a day that's more productive than ever before.
Siemens Avanto 1.5T Features:
Increased throughput with Tim+Dot.
Exceptional magnet homogeneity for excellent fat saturation.
Strong gradients for high resolution and short scan times.
Increased result consistency for faster diagnosis.
Faster training and increased staff versatility.
AudioComfort. Broad application range.
Easy siting conditions.
Siemens Avanto 1.5T Specifications:
Field strength 1.5T Bore size 60 cm
Magnet length 150 cm
System length 160 cm
System weight (in operation) 5.9 tons
Minimum room size 27 m² / 290 sq. ft.
RF Tim [32x8]3, [76x18], [76x32]
Gradient strength Q-engine (33 mT/m @ 125 T/m/s) SQ-engine (45 mT/m @ 200 T/m/s)
Clinical Imaging Systems offers turnkey installation on all equipment we sell. Systems come fully tested with optional reconditioning or refurbishing.
CIS provides a variety of warranty and service options to fit any budget and as an approved vendor of leading medical equipment finance companies CIS can provide you with flexible financing options.
Site planning is included with all turnkey installations and CIS can help manage and provide suite remodels and build-outs.
Contact us today for a quotation on your imaging equipment needs.