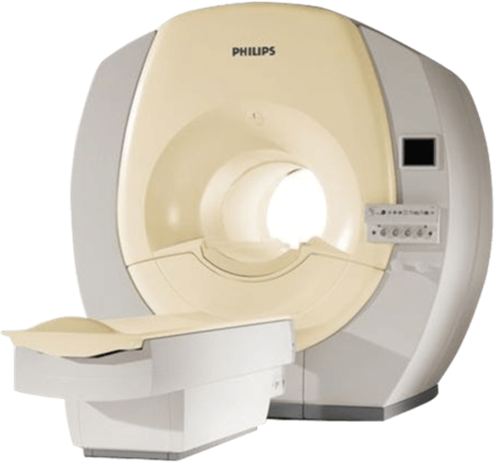 The Intera-family offers with this member a wide range of possibilities, efficiency and a ergonomic and intuitive serving-platform. Also available as Intera CV for cardiac and Intera I/T for interventional MR procedures.The scanners are also equipped with SENSE technology, which is essential for high-quality contrast enhanced magnetic resonance angiography, interactive cardiac MR and diffusion tensor imaging (DTI) fiber tracking.
The Philips Intera 1.5T MRI machine is a high field scanner that affords users levels of customizability to perform exams any way users want. The Philips Intera 1.5T MRI features a revolutionary ultra-compact magnet, excellent image quality and a wide, open, patient-friendly design.
 Features:
Ultra compact and friendly design
Lightweight
Wide patient opening
Table speeds of 20mm/s to 180mm/s
Soft mattress with head rest
Patient comfort
Clinical Imaging Systems offers turnkey installation on all equipment we sell. Systems come fully tested with optional reconditioning or refurbishing.
CIS provides a variety of warranty and service options to fit any budget and as an approved vendor of leading medical equipment finance companies CIS can provide you with flexible financing options.
Site planning is included with all turnkey installations and CIS can help manage and provide suite remodels and build-outs.
Contact us today for a quotation on your imaging equipment needs.