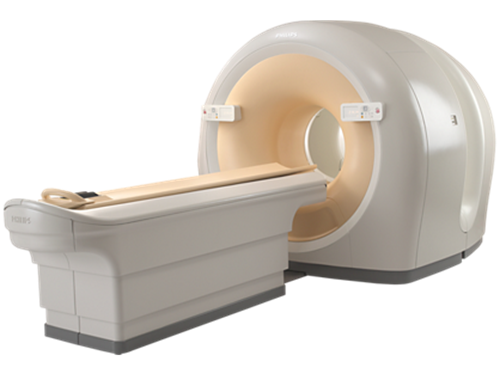 The Philips Ingenuity TF PET/CT Time-of-Flight system leverages multiple technologies, collectively known as xPand⁵, that act together to enhance image quality and support quantification. These join CT advances like iPatient, iDose⁴, and metal artifact reduction for implants (O-MAR).
Philips Ingenuity TF 64 PET CT Features:
Astonish TF Astonish TF is the next evolution in Time-of-Flight (TOF) technology. With up to 30% improved contrast over non-TOF, Astonish TF provides enhanced lesion detectability with reconstruction speeds as fast as 30 seconds/bed.
iDose4 The system also features iDose4, our newest generation of DoseWise features. This undivided and holistic approach to low-dose CT imaging provides up to 80% reduction of dose while maintaining high image quality, fast reconstruction times and improved spatial resolution.
** Full-fidelity imaging accuracy** PET imaging is evolving from qualitative imaging to quantitative performance. Astonish TF utilizes full listmode capabilities, allowing for faster scans, up to 67% lower dose, and exceptional image quality that combine to provide greater accuracy in quantitative assessment.
Timing resolution: 540 ps
Sampling rate: 25 ps
Sensitivity gain: 2 - 5x, depending on patient size
System sensitivity: 19400 cps/MBq (center); 18800 cps/MBq (10 cm)
Peak NECR: 160 kcps @ 5.3 kBq/ml
Time-of-Flight localization accuracy: 8.1 cm
Clinical Imaging Systems offers turnkey installation on all equipment we sell. Systems come fully tested with optional reconditioning or refurbishing.
CIS provides a variety of warranty and service options to fit any budget and as an approved vendor of leading medical equipment finance companies CIS can provide you with flexible financing options.
Site planning is included with all turnkey installations and CIS can help manage and provide suite remodels and build-outs.
Contact us today for a quotation on your imaging equipment needs.