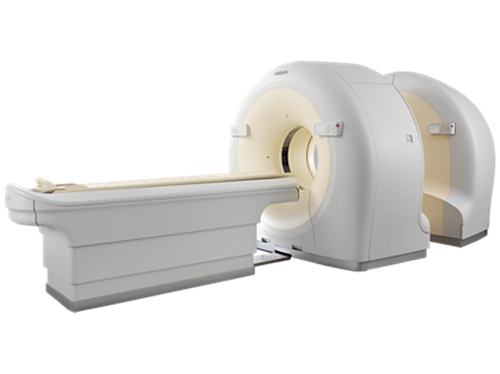 The Philips GEMINI TF 64-channel configuration system puts you ahead of the applications curve. In addition to providing additional confidence during routine oncology FDG studies, the acquisition speed of PET and CT enables you to perform advanced applications such as pulmonary gating, cardiac studies and molecular imaging.
Philips Gemini TF 16 / 64 Slice PET CT Scanner Features:
DoseWise for dose efficiency - designed to help you achieve exceptional dose efficiency to enhance patient care without compromising image quality
OpenView Gantry - the unique open design offers increased patient comfort for anxious and claustrophobic patients
Maximum patient weight: 195/430 kg/lbs
Patient port for PET & CT: 70 cm
PET/CT scan range: 190 cm
OpenView gantry design: Yes
PET
Crystal material: LYSO
Crystal dimensions: 4 x 4 x 22 mm
Time-of-Flight imaging: Yes
System sensitivity (center): 7000 cps/MBq (NEMA) and > 14,000 (TOF)
Peak NECR: 110 kcps (NEMA) and > 220 (TOF)
Transverse spatial resolution (1 cm): 4.7 mm (NEMA)
CT
Configurations: Brilliance 64-channel or 16-slice
MRC X-ray Tube: Anode storage capacity 8.0 MHU
Clinical Imaging Systems offers turnkey installation on all equipment we sell. Systems come fully tested with optional reconditioning or refurbishing.
CIS provides a variety of warranty and service options to fit any budget and as an approved vendor of leading medical equipment finance companies CIS can provide you with flexible financing options.
Site planning is included with all turnkey installations and CIS can help manage and provide suite remodels and build-outs.
Contact us today for a quotation on your imaging equipment needs.