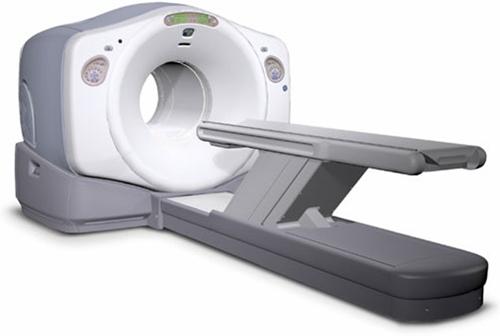 The GE Discovery DS and DST PET/CT is available in 4,8 and 16 slice versions and comes with a range of optional advanced software applications. The Discovery ST is ideal with cardiology software options. Some systems features include: micrVoxel* imaging, 6.3 MHU Performix X-Ray Tube, SmartmA* automatic modulation technique, Integrated gantry with slip-ring design. Optimized for routine oncology, cardiology and neurology studies, yet powerful and flexible enough for advanced clinical applications, making it an ideal solution for PET/CT scanning needs.
Other Features:
Integrated gantry containing a slip-ring designed CT X-Ray tube and multi-slice detector, 24 PET detector rings of BGO crystals, high-speed acquisition and reconstruction electronics
Patient imaging table with extended dual-patient scan range
Dual-table and gantry motion control panels show gantry and table position
Convenient foot pedals for table up/down control
Fast table movement with simultaneous up/in or down/out movement
Internally cooled gantry – Eliminates need for water chiller
One integrated Operator Console
Triple-axis laser alignment lights
PET DICOM connectivity (Query, Retrieve, Send, Receive) and DICOM Print
Attenuation correction by transmission measurements using CT or (optionally) Germanium sources
Static, dynamic and cardiac gated emission acquisition modes
Automatic loading and storage of all rod sources used for calibration and attenuation correction
Can perform virtually any CT clinical application
Clinical Imaging Systems offers turnkey installation on all equipment we sell. Systems come fully tested with optional reconditioning or refurbishing.
CIS provides a variety of warranty and service options to fit any budget and as an approved vendor of leading medical equipment finance companies CIS can provide you with flexible financing options.
Site planning is included with all turnkey installations and CIS can help manage and provide suite remodels and build-outs.
Contact us today for a quotation on your imaging equipment needs.