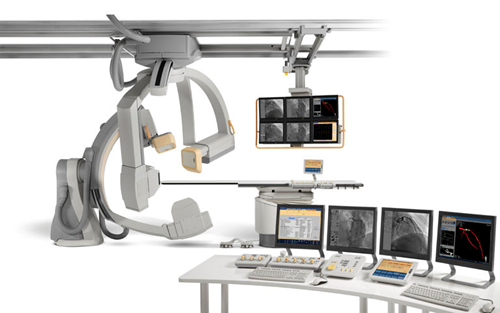 The Philips Allura FD 10/10 offers excellent insight with its advanced biplane dual 10 x 10 inch digital detectors. Biplane cardiovascular X-ray system offers enhanced guidance support.
Dynamic 3D roadmap and XperGuide give you Live 3D guidance capabilities that provide excellent clinical insight and enhanced navigation for tortuous vasculature. XperCT provides CT-like imaging in the neuro suite that enables clinicians to assess soft tissue, bone structure and other body structures before, during or after an interventional procedure. All controlled tableside on the biplane neuro X-ray system. Perform neurovascular interventions with complete confidence and control. The biplane neuro X-ray system features two large flat detectors, each with a complete 2k virtually distortion-free imaging chain.
Features:
Additional Workstation with StentBoost
Dedicated cardiac and pediatric settings for minimally invasive cardiac surgery procedures
Superb image quality for coronary angiography studies in both the frontal and lateral plane
Fixed X-ray system features Xper personalized settings that simplify complex positioning movements during endovascular surgery
DoseWise offers low X-ray dose and excellent image quality
Three-dimensional tools support treatment strategies for minimally invasive coronary angiography procedures
Clinical Imaging Systems offers turnkey installation on all equipment we sell. Systems come fully tested with optional reconditioning or refurbishing.
CIS provides a variety of warranty and service options to fit any budget and as an approved vendor of leading medical equipment finance companies CIS can provide you with flexible financing options.
Site planning is included with all turnkey installations and CIS can help manage and provide suite remodels and build-outs.
Contact us today for a quotation on your imaging equipment needs.