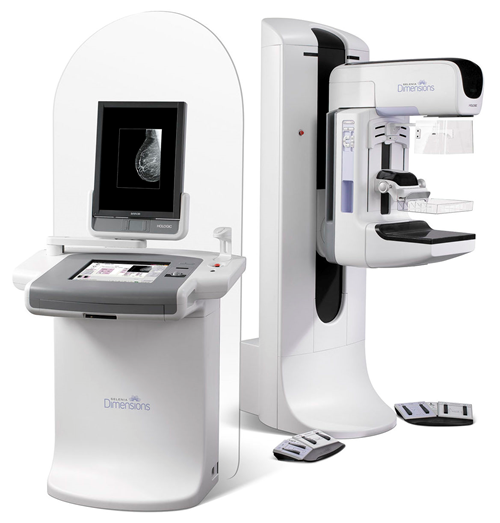 The Selenia Dimensions system is available in  multiple packages and options to meet your facility's unique needs. We have incorporated the latest technologies to simplify workflow and facilitate high patient throughput. The combination of Selenia Dimensions system's Genius 3D MAMMOGRAPHY™ exam and C-View software is clinically proven to be more accurate than 2D alone for all breast types.3 C-View software produces 2D images from images obtained during a Genius 3D MAMMOGRAPHY™  exam without 2D exposures.
Features:
Streamlining workflow, the Selenia Dimensions system performs the imaging of tomorrow, today. All configurations offer the following features.
High-resolution display:
Images that can be instantly viewed on a 2 MP or 3MP DICOM-calibrated display, providing exceptionally fine detail.
Allows prior breast imaging studies to be recalled, making it possible to view new and prior images side-by-side.
Optimized face shield:
Retractable to help when positioning patients.
Stationary during 3D™ imaging, allowing patients to be positioned as they are for 2D imaging.
FAST Paddle system
Conforms to natural contours of the breast, providing greater comfort to the patient and more even compression across the entire breast.
All paddles used for 2D and 3D™ imaging.
Streamlined tube head:
Streamlined tube head and ample Source-to Image Distance (SID) of 70 cm, making positioning easier and providing more space for interventional procedures.
Multiple procedure modes:
2D mammography
Genius 3D MAMMOGRAPHY™
Low-dose Genius 3D MAMMOGRAPHY™
3D MAMMOGRAPHY™ only
2D or 3D™ biopsy with the AffirmTM breast biopsy guidance system
I-ViewTM software for Contrast Enhanced 2D Imaging
Clinical Imaging Systems offers turnkey installation on all equipment we sell. Systems come fully tested with optional reconditioning or refurbishing.
CIS provides a variety of warranty and service options to fit any budget and as an approved vendor of leading medical equipment finance companies CIS can provide you with flexible financing options.
Site planning is included with all turnkey installations and CIS can help manage and provide suite remodels and build-outs.
Contact us today for a quotation on your imaging equipment needs.