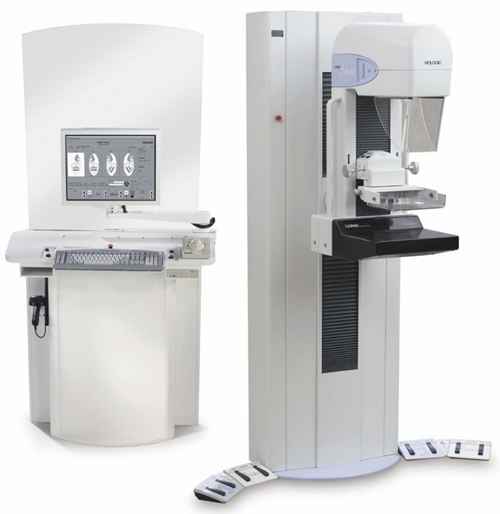 The Selenia™ full field digital mammography system signals the beginning of a new era in the world of digital mammography. This elegant and innovative system combines the latest advances in technology with sophisticated information management capabilities to bring you the total solution for your digital mammography needs.
Features:
Revolutionary DirectRay® Direct Conversion Detector
preserves image sharpness by completely eliminating light diffusion
Largest digital detector in the industry, 24 x 29 cm field of view accommodates
almost all breast sizes
Renowned High Transmission Cellular (HTC®) Grid significantly reduces
radiation scatter for higher contrast images
Exclusive Smart Paddle System™ allows accurate, easy positioning
Selenia uses selenium based direct capture technology. This eliminates light diffusion completely for perfect clarity and exquisite image quality.
Selenia incorporates our patented HTC® grid technology that delivers higher contrast images by significantly reducing radiation scatter without increasing dose.
A tungsten x-ray tube with rhodium and silver filters reduces radiation dose to the patient while maintaining the superb image quality and contrast of Selenia images.
The Selenia acquisition workstation features a thoughtful user interface, and intuitive display screens giving you more time to focus on the patient. Every Selenia image you see is enhanced with intelligent processing.
Clinical Imaging Systems offers turnkey installation on all equipment we sell. Systems come fully tested with optional reconditioning or refurbishing.
CIS provides a variety of warranty and service options to fit any budget and as an approved vendor of leading medical equipment finance companies CIS can provide you with flexible financing options.
Site planning is included with all turnkey installations and CIS can help manage and provide suite remodels and build-outs.
Contact us today for a quotation on your imaging equipment needs.