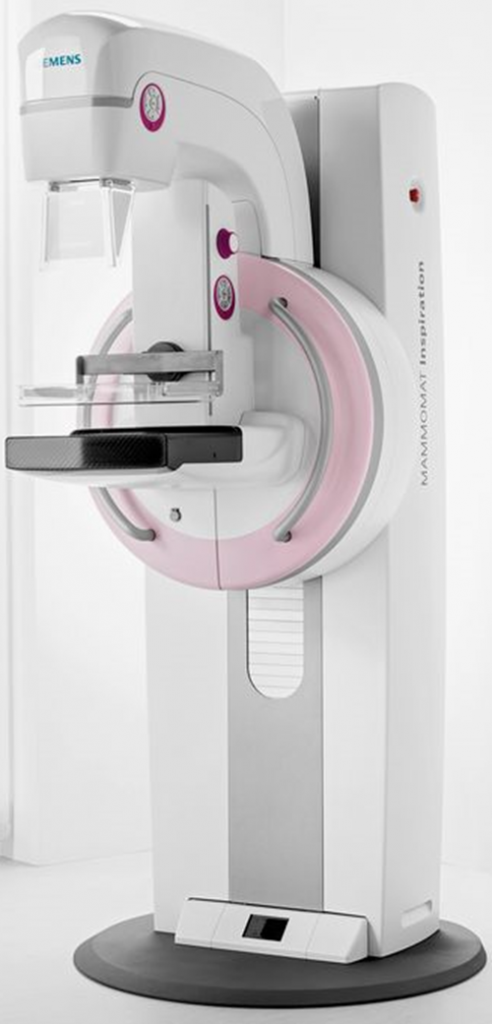 Siemens Inspiration Digital Mammography delivers digital mammography that exceeds expectations and meets demands. Low dose The primary advantage of MAMMOMAT Inspiration is low dose. To match the breast density and body profile of your patients, it offers three anode/filter combinations. Opdose automatically selects the best possible anode/filter combination and the lowest possible dose for the individual breast characteristics.
Features:
Detector technology amorphous selenium (aSe)
Detector size 24 cm x 30 cm (9.5" x 12")
X-ray tube anode material Mo/W
Filter Mo/Rh
Swivel range + 180° to – 180°, motorized, isocentric rotation
Vertical travel, motorized 69 cm (27.2") to 150 cm (59.1") (object table)
Source-detector distance 65 cm (25.6")
Monitors 48 cm (19") TFT color display
3 MP 54 cm (21") TFT color display (optional)
CD / DVD yes
USB yes
Clinical applications and workflows
X-ray release options control console, hand switch and footswitch options
OpComp - optimized compression force yes
OpDose - optimized patient dose yes
CARE program yes
DICOM Services DICOM Storage (Send/Receive)
DICOM Print
DICOM Query/Retrieve
DICOM Worklist / MPPS
Interface for CR integration A.
Accessories/Options
Biopsy Stereotactic Biopsy option
Breast Tomosynthesis Option
PRIME Technology Option
MoodLight Option
Clinical Imaging Systems offers turnkey installation on all equipment we sell. Systems come fully tested with optional reconditioning or refurbishing.
CIS provides a variety of warranty and service options to fit any budget and as an approved vendor of leading medical equipment finance companies CIS can provide you with flexible financing options.
Site planning is included with all turnkey installations and CIS can help manage and provide suite remodels and build-outs.
Contact us today for a quotation on your imaging equipment needs.