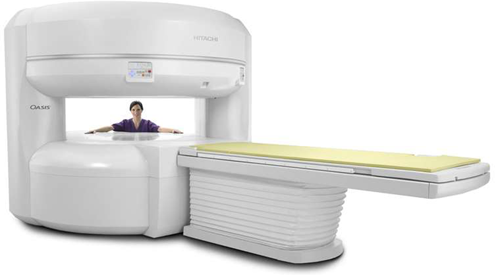 Oasis 1.2T MRI system sets a high standard for patient-centric care. A unique achievement in high-performance imaging, the Oasis truly open architecture features advanced magnet design, Zenith RF Technology and robust clinical capabilities to achieve high throughput diagnostic performance.
Hitachi Oasis 1.2T MRI Features and Specifications:
Magnet
The Oasis vertical field magnet is 5th generation Hitachi technology providing 1.2T with an open architecture. The magnet features high uniformity complemented by High Order Active Shimming Technology (HOAST) applied per patient.
1.2 Tesla Hitachi vertical field superconducting
45 x 45 x 45 cm FOV
Guaranteed Homogeneity
- 0.3ppm @35cm DSV (Vrms)
Active magnetic shielding
Helium cryogen
Refill: Up to two years
RF System
The Zenith RF receiver system provides the SNR advantage of vertical field magnet technology used in concert with solenoid RF coils. Virtually all of Oasis' coils support RAPID™ parallel imaging for maximum clinical flexibility and image quality.
Zenith 18kW RF Transmit
Digital Receiver
- 8 independent channels
- 2 coil connection points
- T/R body coil
- Zenith RF coils and dedicated anatomy coils
Gradient System
The standard Oasis gradients deliver the capability for rapid acquisition of high-resolution images. The high peak strength and fast slew rate allow the user to select short TE times, small FOV, thin slices and high matrices.
Peak amplitude: 33 mT/m
Peak slew rate: 100 T/m/s
Active shielding
Water cooling
Gradient noise reduction
- Softsound™ sequences
- Sound dampening
Siting
The Oasis design attributes make it accommodating to existing facilities and easily planned into new construction.
5 gauss line
- Axial 4.0 m (13' 1")
- Radial 3.3 m (10' 9")
Scan room size: 23' 8" x 16' 6" (Typical)
Clinical Imaging Systems offers turnkey installation on all equipment we sell. Systems come fully tested with optional reconditioning or refurbishing.
CIS provides a variety of warranty and service options to fit any budget and as an approved vendor of leading medical equipment finance companies CIS can provide you with flexible financing options.
Site planning is included with all turnkey installations and CIS can help manage and provide suite remodels and build-outs.
Contact us today for a quotation on your imaging equipment needs.