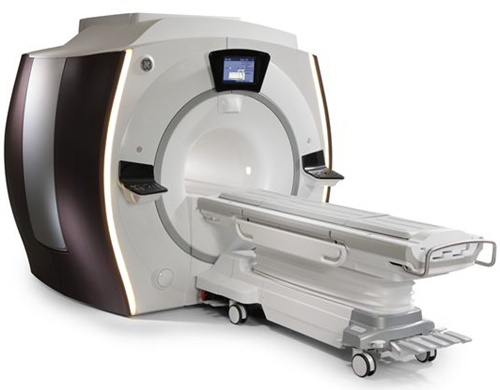 The Optima MR450w with GEM Suite continues our emphasis on patient comfort without compromising quality or capabilities. The Optima™ MR450w delivers exquisite image quality to aid in your diagnosis. To meet your high quality expectations, the advanced capabilities of our Discovery™ MR platform have been applied to the Optima MR450w, making it both versatile and powerful. It combines the benefits of wide-bore imaging with GEM, or Geometry EmbracingOptima MR450w 1.5T with GEM Suite Method, incorporating an approach to MR imaging that reflects the importance of conforming the geometry of the equipment and technology to that of the patients. Built on a fully redesigned MR platform, the MR450w offers: OpTix digital RF system – signal digitization in the magnet room to help improve SNR. 50cm usable FOV – accommodate larger patients. High fidelity gradients – optimized control of gradient performance to generate outstanding performance in demanding applications such as fMRI, cardiac, diffusion, and FIESTA. Acoustic Reduction Technology (ART) – reduce acoustic noise for brain, spine, and MSK exams without compromising image quality.
Clinical Imaging Systems offers turnkey installation on all equipment we sell. Systems come fully tested with optional reconditioning or refurbishing.
CIS provides a variety of warranty and service options to fit any budget and as an approved vendor of leading medical equipment finance companies CIS can provide you with flexible financing options.
Site planning is included with all turnkey installations and CIS can help manage and provide suite remodels and build-outs.
Contact us today for a quotation on your imaging equipment needs.