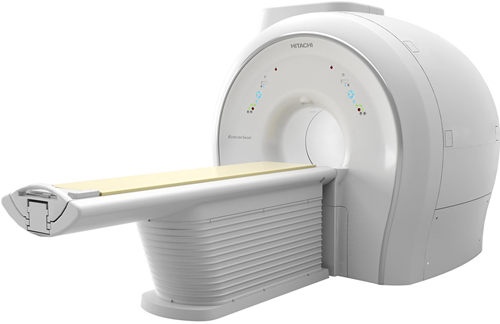 Hitachi's closed high field MRI, Echelon 1.5T is a premiere value in MRI. A reliable imaging tool, Echelon delivers excellent image quality and RF fat saturation with workflow advantages in patient setup, motion compensation, and image processing. With the short-bore gantry and small footprint, Echelon offers a simple solution for customer's upgrading or replacing equipment.
Patient Management
Echelon's short bore and wide aperture provide an inviting patient environment. The large, high-capacity patient table comfortably supports a broad range of body types. More than nine feet of table travel enables feet-first patient entry for all exams.
Patient Aperture
- 61 cm width; 160cm length
Patient Table
- Width: 70cm
- Length: 280cm (>9 feet)
- Vertical range: 50cm – 85cm
- Weight Capacity: 500lb
Vertex II Computer
Parallel processing ensures fast scan/reconstruction while maintaining true multi-tasking for maximum operator productivity and patient throughput.
Core i5 processor
8GB RAM
320 GB Hard Drive
24" color LCD – 1920 x 1200
Siting
Echelon's design attributes make it accommodating to existing facilities and easily planned into new construction. As an acknowledged leader in imaging placements, Hitachi offers a wealth of site planning experience and a proven system for efficient siting, installation, and start-up.
Siting Considerations
5 gauss line
- Axial 4.0m (13' 1")
- Radial 2.5m (8' 2")
Scan room size
- 20'4" x 16' 5" (Typical)
- 19'7" x 13'2" (Minimum)
Clinical Imaging Systems offers turnkey installation on all equipment we sell. Systems come fully tested with optional reconditioning or refurbishing.
CIS provides a variety of warranty and service options to fit any budget and as an approved vendor of leading medical equipment finance companies CIS can provide you with flexible financing options.
Site planning is included with all turnkey installations and CIS can help manage and provide suite remodels and build-outs.
Contact us today for a quotation on your imaging equipment needs.