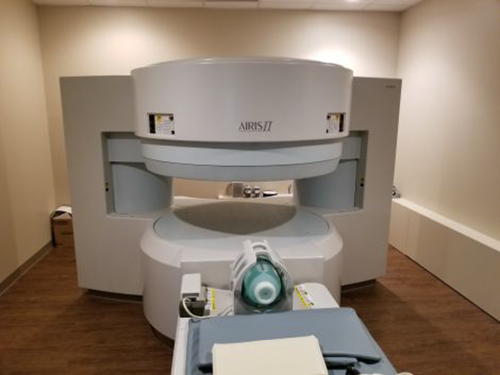 The AIRIS II has continued to maintain high resale value over the last decade and remains a sought-after scanner on the used equipment market.
Hitachi Aries II Features:
• 0.3T permanent magnet technology means economical siting and operation
- Small 5G footprint – 6.6ft. horizontal x 8.2ft. vertica
- No Equipment room or chiller required
- 388 sq. ft. minimum site plan
- 208v single phase power
- Low 3KW average power consumption
• Open patient accessibility
- 80cm wide patient table
- 18" minimum table height
- 500 lb weight capacity
Clinical Imaging Systems offers turnkey installation on all equipment we sell. Systems come fully tested with optional reconditioning or refurbishing.
CIS provides a variety of warranty and service options to fit any budget and as an approved vendor of leading medical equipment finance companies CIS can provide you with flexible financing options.
Site planning is included with all turnkey installations and CIS can help manage and provide suite remodels and build-outs.
Contact us today for a quotation on your imaging equipment needs.