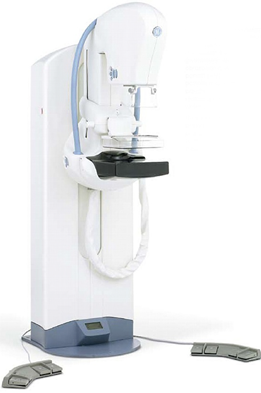 The GE Senographe Essential offers the largest active field of view in the industry. The foundation of the Senographe Essential imaging excellence is GE's advanced digital detector, which at low doses delivers the industry's highest Detective Quantum Efficiency (DQE) – the new standard for quantifying digital X-ray image quality. Features: The latest full-field digital mammography platform providing the best of GE's technology on a large detector (24×31 cm). The latest platform for both current and future applications. A large detector to accommodate all breasts shapes and sizes. Top of the line image quality at an impressively low dose. Streamlined workflow for faster throughput and increased first-time accuracy. World-class renowned Seno Advantage review workstation with PACS connectivity.
Clinical Imaging Systems offers turnkey installation on all equipment we sell. Systems come fully tested with optional reconditioning or refurbishing.
CIS provides a variety of warranty and service options to fit any budget and as an approved vendor of leading medical equipment finance companies CIS can provide you with flexible financing options.
Site planning is included with all turnkey installations and CIS can help manage and provide suite remodels and build-outs.
Contact us today for a quotation on your imaging equipment needs.