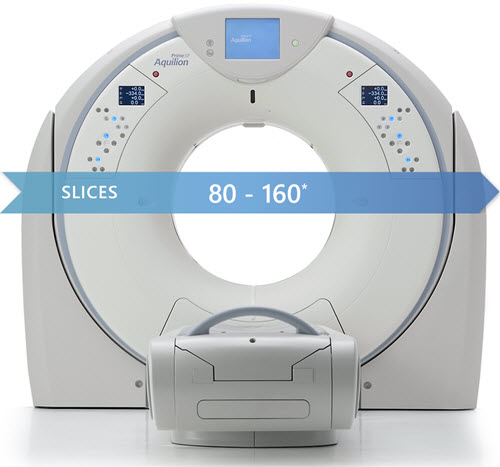 Aquilion PRIME 160 / 80 multislice helical CT system with an 80-row detector capable of generating 80/160 slices per rotation using the coneXact.
Aquilion™ PRIME is designed the way imaging technology should be – with the ability to scan more patients and offer a better CT experience.
Boost Department Efficiency
Adaptive Diagnostic features that improve accuracy and workflow.
Advanced Technologies Standard
Industry-leading, automated dose reduction capabilities improve patient safety and increase quality of care, including AIDR 3D technology and XR-29 compliance standard on all systems.
Highspeed rotation allows rapid data acquisition and shortens scan times, while the fast reconstruction unit further improves throughput, reducing the time required for diagnosis. Aquilion™ PRIME is the latest addition to the Aquilion™ ONE family with key features such as Adaptive Iterative Dose Reduction (AIDR), an iterative reconstruction algorithm that has been designed to further enhance clinical examinations.
Canon – Toshiba Prime 80 / 160 Features:
 Ultra Low Dose Examination
AIDR
Active Collimator
SUREExposure 3D
Boost3D
Dose Report
Dose Index Value Display
Ultra Fast Workflow
Aquilion PRIME ensures fast data to diagnosis that meets the requirements of increasingly complex examinations and accelerate the process of providing the information you need to make treatment decisions.
Fast Reconstruction
80-detector row helical
78 cm gantry aperture
Metal less Head rest
Metal less Arm up holder
SUREXtension
ONE Family Application
Body Perfusion
Dual Energy
Lung Volume Measurement
SURECardio
CBP Study / SURESubtraction
SPECIFICATIONS
Gantry (Max. Clearance)    78 cm
Slices 160
Type (configuration)            Multislice
Clinical Imaging Systems offers turnkey installation on all equipment we sell. Systems come fully tested with optional reconditioning or refurbishing.
CIS provides a variety of warranty and service options to fit any budget and as an approved vendor of leading medical equipment finance companies CIS can provide you with flexible financing options.
Site planning is included with all turnkey installations and CIS can help manage and provide suite remodels and build-outs.
Contact us today for a quotation on your imaging equipment needs.