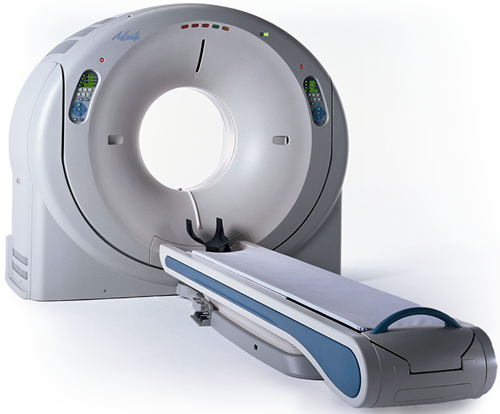 The Aquilion 64 lifts the award winning Aquilion multi-slice CT platform to a new benchmark. It is twice as fast as a 32 detector row CT system and comes with workflow-enhancing software that delivers unsurpassed image quality, improved dose management and superior patient care.
In a single breath-hold of 6-10 seconds, the Aquilion 64 can capture superior, precise images of the heart to help early detection of heart disease—often eliminating the need for invasive cardiac angiograms.
The Toshiba Aquilion 64 CT machine is considered the only true volumetric 64-slice CT scanner with 64 detector channels, 3-D cone beam algorithms and volume reconstruction on the market. Automated features in the Toshiba Aquilion 64 CT scanner's SUREWorkflow software enable the operator to monitor a patient's heart rate prior to scanning.
Toshiba's 3-D Quantum denoising allows for reducing patient radiation exposure by up to 40% without loss of image quality. Each Toshiba Aquilion 64 CT scanner also features volume reconstruction, enabling you to scan a large volume in a minimum of time as Volume Viewing automatically reconstructs scanned data into the isotropic volume used for diagnosis.
Canon - Toshiba Aquilion 64 / 32 Features:
Precise isotropic imaging
Fast temporal resolution
64 simultaneous slices of 0.5mm with each 350ms revolution
256 slices in one rotation with .5mm slice thickness
13cm coverage in patient axis direction
Advanced SUREWorkflow software with PhaseXact
180cm long by 47cm wide patient couch
40% radiation dose reduction
70kW HF generator with 400 ms scan speed
SPECIFICATIONS
Gantry (Max. Clearance)    72 cm
Image Display           18 in LCD color x 2
Maximum Scan Range       180 cm
Patient Weight Capacity     450 lbs with option up to 660 lbs
Type (configuration)            Multislice
Clinical Imaging Systems offers turnkey installation on all equipment we sell. Systems come fully tested with optional reconditioning or refurbishing.
CIS provides a variety of warranty and service options to fit any budget and as an approved vendor of leading medical equipment finance companies CIS can provide you with flexible financing options.
Site planning is included with all turnkey installations and CIS can help manage and provide suite remodels and build-outs.
Contact us today for a quotation on your imaging equipment needs.