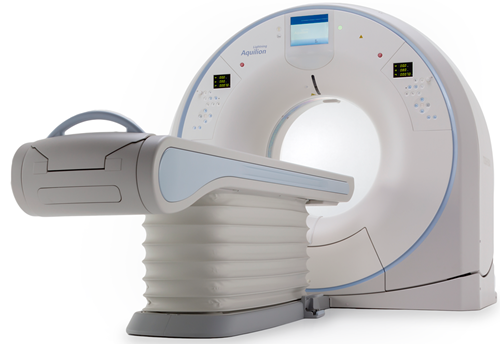 Available Aquilion Models:
Aquilion 16
Aquilion 16 RXL
Aquilion Lightning (specifications for this model are faster with more available options than listed below)
 The Toshiba Aquilion 16 is a multi-slice helical CT scanner featuring a 60 kW generator, 7.5 MHU tube and a fastest standard gantry rotation time of 0.5 seconds. The Toshiba Aquilion 16, in helical mode, is capable of acquiring 16 parallel rows of data per rotation with collimations of 16 x 0.5 mm, 16 x 1 mm and 16 x 2 mm.
Scanning of volumes up to 1750 mm, in isotropic resolution, using a 1 mm slice, in just 38 seconds and delivering the 1750 images ready for diagnosis in less then 3 minutes. Aquilion 16 is still the only 16 slice CT that delivers highly detailed results in record time over a scan-range doing away with the need for re-positioning and a largely reduces examination time for trauma patients.
During the scan images are reconstructed and displayed with 12 frames per second enabling instant diagnosis. Improved treatment quality is achieved together with a dramatic reduction in examination time, a benefit appreciated by many anaesthetists. Positioning the patient "Feet First", "Head First", scanning "In" or "Out", the Aquilion S16 has no limitations.
Combined with "FX" technology, which enables 0.4 s rotations for all scan-modes, scan-time is further reduced. Freezing thereby artefacts induced by respiratory and cardiac movements.
Canon - Toshiba Aquilion 16 Features:
Performance for all patients
Routine 0.5 sec rotation scanning
Uncompromised CTA exams, 0.5 mm slice thickness
0.5mm x 16 detector row
16 detector technology with industry lead specs
Leading Low Contrast Resolution (LCR)
Quantum Denoising Software (QDS)
Boost 3D
Real time bolus tracking
Multiple ROI placement
Auto triggering
Real time movement of ROI's
Ability to track Pulmonary Artery and Aorta simultaneously
Clinical Imaging Systems offers turnkey installation on all equipment we sell. Systems come fully tested with optional reconditioning or refurbishing.
CIS provides a variety of warranty and service options to fit any budget and as an approved vendor of leading medical equipment finance companies CIS can provide you with flexible financing options.
Site planning is included with all turnkey installations and CIS can help manage and provide suite remodels and build-outs.
Contact us today for a quotation on your imaging equipment needs.