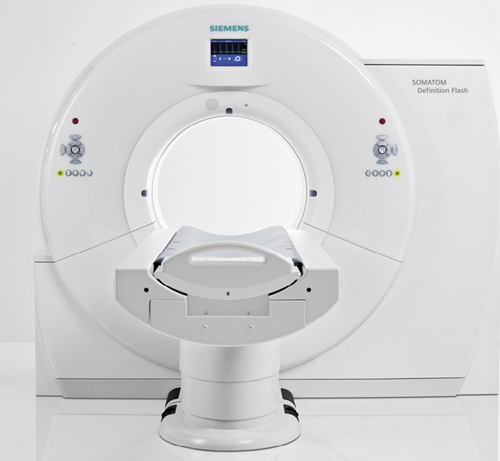 The Siemens Definition AS and Flash eco models offer the speed required and the low dose needed in today's medical imaging practices. The SOMATOM Definition Flash eco offers split-second scanning at an unrivalled acquisition speed and the industry's only dose-neutral Dual Energy are just two of them.
AS features include FAST CARE platform, the new Single Source CT scanner SOMATOM Definition AS eco maximizes clinical outcomes and provides you with more time for your patients to raise patient-centric productivity. Flash features Include: Open CT with complete dose protection for all patients (from pediatric to bariatric) with CARE Dose4D, FAST CARE, and SAFIRE. Equipped to handle any clinical setting and is well suited for the challenges of the Emergency Department. High performance with ecological advantages in energy savings and more than 98% of the materials are recyclable. Improved clinical outcomes and productivity by allowing for more time to spend with patients. Designed to make CT exams much healthier for patients. Redefined CT imaging with 2 STRATON X-ray tubes and 2x100 kW generator.
Clinical Imaging Systems offers turnkey installation on all equipment we sell. Systems come fully tested with optional reconditioning or refurbishing.
CIS provides a variety of warranty and service options to fit any budget and as an approved vendor of leading medical equipment finance companies CIS can provide you with flexible financing options.
Site planning is included with all turnkey installations and CIS can help manage and provide suite remodels and build-outs.
Contact us today for a quotation on your imaging equipment needs.