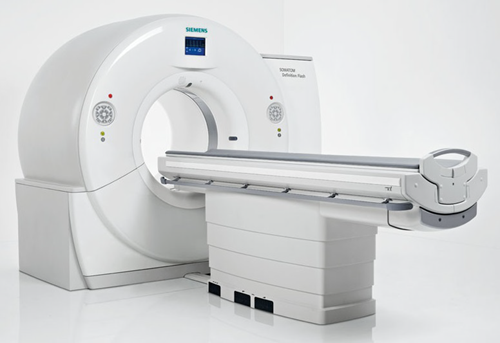 The Siemens Definition Flash Dual Source technology is the key to accelerating CT imaging. The combination of two sources, a high table feed, ultra-fast data transmission, and a gantry that can perform a full rotation in 0.28 seconds makes the SOMATOM® Definition Flash truly unrivalled when it comes to scanning speed. Its temporal resolution of 75 ms comes with no sacrifices in image quality – instead, it offers remarkable benefits not only for the most dose-sensitive patients: With the Flash Spiral, dose values under 1 mSv are so frequent that they can be considered routine.
Specs:
Detector: 2 x Stellar Detector
Number of slices: 2 x 128
Rotation time: 0.28 s1
Temporal resolution: 75 ms1, heart-rate independent
Generator power: 200 kW (2 x 100 kW)
kV steps: 70, 80, 100, 120, 140 kV
Isotropic resolution: 0.33 mm
Cross-plane resolution  0.30 mm
Max. scan speed: 458 mm/s1 with Flash Spiral
Table load: up to 307 kg / 676 lbs1
Gantry opening: 78 cm
Clinical Imaging Systems offers turnkey installation on all equipment we sell. Systems come fully tested with optional reconditioning or refurbishing.
CIS provides a variety of warranty and service options to fit any budget and as an approved vendor of leading medical equipment finance companies CIS can provide you with flexible financing options.
Site planning is included with all turnkey installations and CIS can help manage and provide suite remodels and build-outs.
Contact us today for a quotation on your imaging equipment needs.