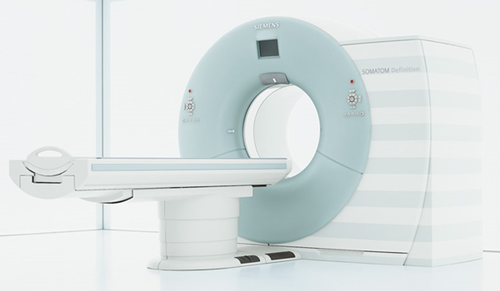 The Siemens Definition DS 128 offers more definition of detail, resolution, and clinical information. Siemens z-Sharp tube technology uses a flying focal spot to create two x-ray beams simultaneously hitting a 32-row detector, effectively producing 64-slice scans. The Definition DS is one of the quickest 64-slice systems available along with temporal resolution of 83 msec per slice -- and the use of multisector reconstruction algorithms can reduce that to 42 msec per slice. The scanner can conduct a cardiac acquisition in a breath-hold of five to six seconds, versus 10 seconds for a 64-slice system.
Somatom Definition isn't limited to cardiac scanning, of course. The technology behind the DS 128 offers added speed benefitting ER and acute care applications. The system can run at 160 kW with a 78-cm gantry diameter, and has a 200-cm scan range.
Clinical Imaging Systems offers turnkey installation on all equipment we sell. Systems come fully tested with optional reconditioning or refurbishing.
CIS provides a variety of warranty and service options to fit any budget and as an approved vendor of leading medical equipment finance companies CIS can provide you with flexible financing options.
Site planning is included with all turnkey installations and CIS can help manage and provide suite remodels and build-outs.
Contact us today for a quotation on your imaging equipment needs.