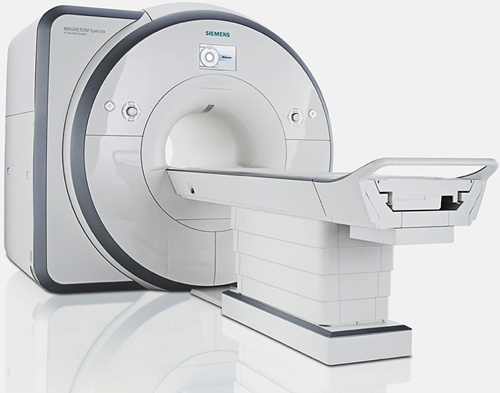 The Siemens MAGNETOM Spectra 3T MRI offers unprecedented 3 Tesla magnetic resonance imaging. It's the key to a new scope of image and healthcare quality for patients. It's the key to a new level of usability and diagnostic confidence for physicians. And, it's the key to ensure premium patient care at an attractive total cost of ownership for radiologists. If access is what you are looking for, then MAGNETOM Spectra is your key to 3T.
Siemens Spectra 3T MRI Features:
Outstanding image quality with Tim 4G DirectRF technology
Best-in-class 3T image homogeneity with TimTX TrueForm
Excellent usability and image consistency with Dot
Comfortable and easy patient setup with SlideConnect & DirectConnect
Low operating cost through low power consumption and zero helium boil-off
Fast break even due to optimum TCO
Siemens Spectra 3T MRI Specifications:
Field strength 3T
Bore size 60 cm
Magnet length 163 cm
System length 173 cm
System weight (in operation) 7.35 tons
Minimum room size 31 m² / 334 sq. ft.
RF Tim [96x24], Tim [120x24]
Gradient strength XG-Gradients (33 mT/m @ 125 mT/m/s)
Clinical Imaging Systems offers turnkey installation on all equipment we sell. Systems come fully tested with optional reconditioning or refurbishing.
CIS provides a variety of warranty and service options to fit any budget and as an approved vendor of leading medical equipment finance companies CIS can provide you with flexible financing options.
Site planning is included with all turnkey installations and CIS can help manage and provide suite remodels and build-outs.
Contact us today for a quotation on your imaging equipment needs.