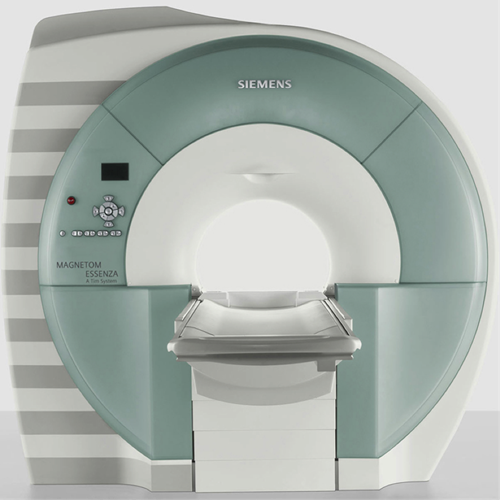 The Siemens MAGNETOM ESSENZA 1.5T MRI enables you to be even more productive, more versatile, and more confident in your daily MRI practice. Equipped with Tim+Dot and fitted with the latest Siemens MR application platform, performing 1.5T MRI has never been easier and more accessible.
Siemens Essenza 1.5 MRI Features:
Higher patient comfort, due to light-weight coils, ultra-short magnet design and faster exams
Increased throughput, consistency, and ease of use – with Dot
Greater clinical scope with standard and advanced clinical applications
Diagnostic confidence through remarkably high 1.5T image quality
Excellent life-cycle value through low installation and operating costs
Siemens Essenza 1.5T MRI Specifications:
Field strength 1.5T
Bore size 60 cm
Magnet length 131 cm
System length 147 cm
System weight (in operation) 4.3 tons
Minimum room size 30 m² / 323 sq. ft.
RF Tim [25x8], [46x16]
Gradient strength V-engine (30 mT/m @ 100 T/m/s)
Clinical Imaging Systems offers turnkey installation on all equipment we sell. Systems come fully tested with optional reconditioning or refurbishing.
CIS provides a variety of warranty and service options to fit any budget and as an approved vendor of leading medical equipment finance companies CIS can provide you with flexible financing options.
Site planning is included with all turnkey installations and CIS can help manage and provide suite remodels and build-outs.
Contact us today for a quotation on your imaging equipment needs.