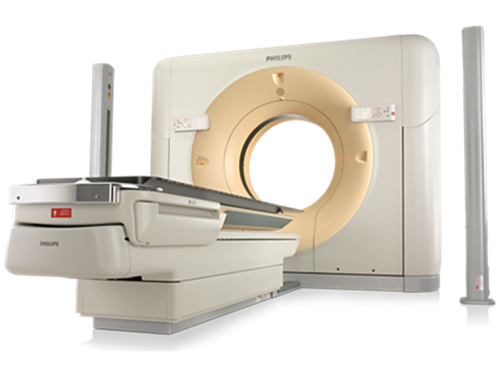 Philips Brilliance CT Big Bore Oncology configuration builds on its AcQsim single-slice CT scanner. The Big Bore Oncology configuration offers oncologists an 85-cm bore that addresses patient positioning concerns and reaps the reward of high-speed, superior spatial resolution, all while providing 16 x 0.75 isotropic imaging.
Philips Brilliance Big Bore 16 Features:
- 85cm bore size to accommodate patients in immobilization devices or with bulky patient monitoring devices.
- 60cm true Scan Field of View (SFOV) to include all patient skin surface; no compromise when using the scan for radiation dose calculations.
- 16-slice per revolution with 2.4cm coverage allows you to cover larger areas in the fastest time.
- Oncology specific tools to increase throughput i.e. full length cursor, oncology protocols.
- CT L.O.C. (Localization On the Console) increases workflow.*
- Respiratory correlated gating with connectivity to third-party gating devices.*
- Patient couch assembly to meet accuracy demands of oncology departments.
Clinical Imaging Systems offers turnkey installation on all equipment we sell. Systems come fully tested with optional reconditioning or refurbishing.
CIS provides a variety of warranty and service options to fit any budget and as an approved vendor of leading medical equipment finance companies CIS can provide you with flexible financing options.
Site planning is included with all turnkey installations and CIS can help manage and provide suite remodels and build-outs.
Contact us today for a quotation on your imaging equipment needs.