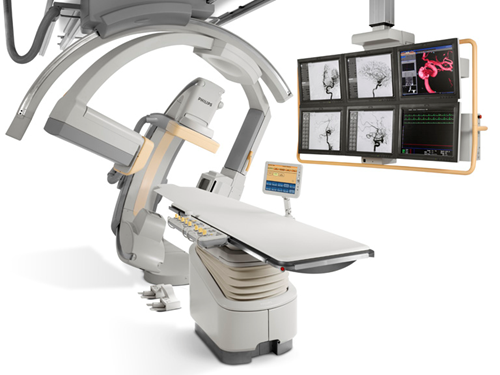 The Philips Allura 20/10 combo lab enables excellent options and clearest possible view for the full spectrum of cardiac and vascular interventions with the Philips Allura Xper FD20/10 biplane mixed cardiovascular X-ray system. It combines the proven stable geometry of the Allura family with a full range of advanced interventional tools and seamless cath lab integration. And offers the right balance between superb image quality and low X-ray dose during lengthy procedures.
Features:
Digital imaging chain provides crisp visualization of small details and objects for complex interventions
Biplane mixed cardiovascular X-ray system supports full spectrum of cardiac, vascular and pediatric examinations in the cath lab
Dedicated pediatric settings reduce X-ray dose
Xper integrates interventional tools, Xper IM, Xcelera or external CIS to support better decision making
Allura 3D-CA interventional tool minimizes foreshortened views of lesions and bifurcations
Clinical Imaging Systems offers turnkey installation on all equipment we sell. Systems come fully tested with optional reconditioning or refurbishing.
CIS provides a variety of warranty and service options to fit any budget and as an approved vendor of leading medical equipment finance companies CIS can provide you with flexible financing options.
Site planning is included with all turnkey installations and CIS can help manage and provide suite remodels and build-outs.
Contact us today for a quotation on your imaging equipment needs.