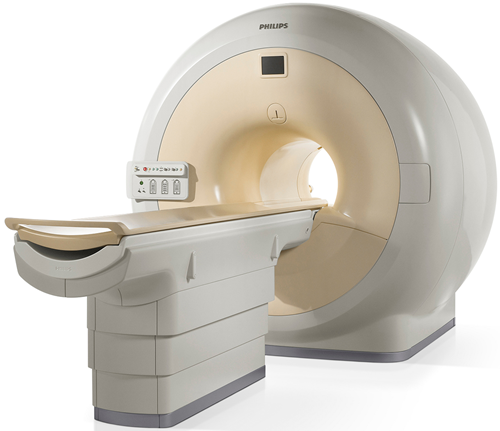 The Philips Achieva 3.0T X-series combines simple operation with fast scanning and superb image quality. Truly complete 3T MRI system, it offers an extremely broad clinical reach from routine head, spine and musculoskeletal imaging to the most advanced exams. Features of the 3T Achieva include:  Weight: < 4600kg. Bore diameter: 60 cm.  Maximum FOV: 50x50x45 cm. TCryogen: Liquid Helium. Zero boil -off magnet. Number of Channels: 16 standard, 32 optional. Parallel RF transmission: MultiTransmit. RF control: Patient-adaptive and anatomy adaptive for each source, automatic.
Features:
3.0T technology The system's exclusive Quasar and Quasar Dual gradient systems offer gradient amplitudes up to 80 mT/m to provide superb performance with excellent linearity.
One click to consistent and reproducible MRI exams. SmartExam automatically controls the planning, scanning, and processing of MRI scans, with one click.
FreeWave is the heart of the next generation of MRI scanners, prepared to handle the imaging needs of the future. **
The gold standard in parallel imaging, SENSE can be combined with virtually every scan method for clinical benefits such as reduced scan times, higher temporal resolution and enhanced spatial resolution. **
ExamCards contain all the scans required for a complete MRI examination in one easy-to-use file that can be downloaded directly to a Philips MRI scanner, providing fast, consistent MRI results.
Contrast uniformity, speed, consistency MultiTransmit technology overcomes dielectric shading by using simultaneous (parallel) transmissions from multiple RF sources. It automatically optimizes the power, amplitude, phase, and waveform for optimal RF uniformity.
Clinical Imaging Systems offers turnkey installation on all equipment we sell. Systems come fully tested with optional reconditioning or refurbishing.
CIS provides a variety of warranty and service options to fit any budget and as an approved vendor of leading medical equipment finance companies CIS can provide you with flexible financing options.
Site planning is included with all turnkey installations and CIS can help manage and provide suite remodels and build-outs.
Contact us today for a quotation on your imaging equipment needs.