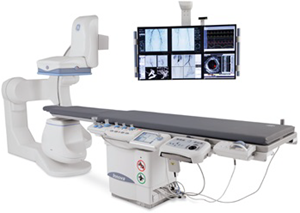 The GE Innova 2100 IQ is a fully integrated imaging system that meets a range of clinical and diagnostic imaging needs. The 2100 has excellent image quality and extensive real-time processing, along with efficient dose management. It's features help to easily position patients, optimize your workflow, and be confident that you won't lose excessive field size from geometric magnification. Features include: Single-piece flat panel digital detector. InnovaIQ Table, Innova 3D, InnovaSpin, Innova OneTouchQA Tableside, Innova IVUS, Stent Technologies, DRM image processing.
Other GE Innova models: Innova 2100, 3100, 4100. Contact us for information on these non-IQ models. 866-858-7164
Clinical Imaging Systems offers turnkey installation on all equipment we sell. Systems come fully tested with optional reconditioning or refurbishing.
CIS provides a variety of warranty and service options to fit any budget and as an approved vendor of leading medical equipment finance companies CIS can provide you with flexible financing options.
Site planning is included with all turnkey installations and CIS can help manage and provide suite remodels and build-outs.
Contact us today for a quotation on your imaging equipment needs.